RESTOCKED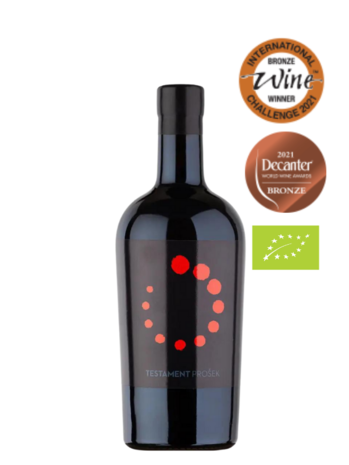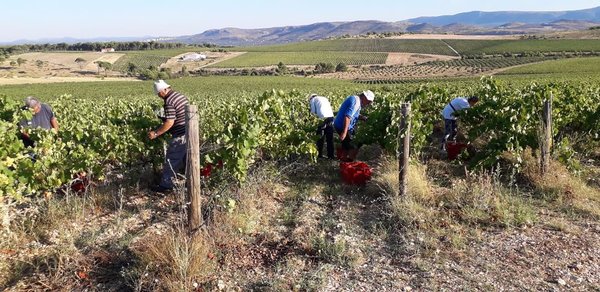 Product description
Product description
Modern style traditional Croatian dessert wine made of 100% Babić grapes.
With 14% alcohol, 100 g/l sugar and pronounced acidity, Testament prošek has a very well balanced taste. Delicious dessert wine that pairs with sweetest desserts but doesn't leave that heavy, sticky aftertaste. 
In this wine you'll find aromas and tastes of dark chocolate, dry figs, sour cherry Maraska and other sweet fruits, tea & coffee with a bit of herbal spice. 
Vinification
Prošek is made of very ripe grapes that dry in the air for couple of months in order to concentrate sugars. For 1 liter of this Prošek, 7-8 kg of grapes were needed. During the regular harvest mid september, Testament winery leaves 1 grape bunch per vine. This only on the old vines. After 2 months of grapes drying on the vines (the oldest drying method for Prošek), the dried grapes are hand picked and processed. Wine is then 10 days fermented and macerated until it reaches 14% abv and 100 g of sugar per liter. Finally, the wine ages in the 500l French and American oak barrels for 24 months before being bottled. 
Acidity: 5.5 g/l
Serving tips
Testament Prošek has an very long ageing potential. 
Serve it well chilled. After opening, keep in the refrigerator. 
Best served with: chocolate desserts, pancakes, sweet gorgonzola, dry cookies and cakes. But also great with pašticada, matured cheese or as an additive to salty dishes such as octopus goulash, mushroom sauce or liver paté.
Testament winery is one of the two wineries that make Prošek made of Babić, but the only one making it from 100% babić grapes. 
Awards
DECANTER 2021 - Bronze medal 
IWC 2021 - Bronze medal
Product specifications
Article number

TC900418

SKU

TC900418

EAN

n/a