Sold out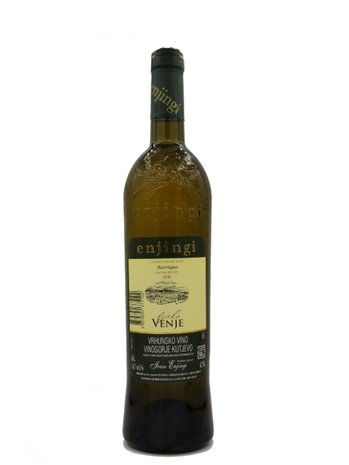 Product description
Product description
A blend of Graševina, Riesling, Sauvignon Blanc, Pinot Gris, Gewurtztraminer that already in 1998 brought first golden Decanter to Croatia. Ever since, Enjingi is making this marvellous, complex, exciting wine. 
This is a well balanced, full body wine with intense flavours and aromas of pear, apple, honey, sweet oak, vanilla and spices. The taste if rich and it's finish very long. The strong alcohol is smooth and well in balance. Great ageing potential.  

Detailed information: 
Grape varietal: Pinot Gris, Sauvignon Blanc, Welschriesling, Riesling, Gewurztraminer
Viticulture: Organic
Category: Dry white wine
Vintage: 2008
Yield per wine: 0.5 - max 1 kg
Harvested: By hand
Residual sugar: 2-3 g/L
Alcohol content: 14,7 %
Wine growing area: Kutjevo, Slavonia, Croatia
Total acidity: 5-6,5 g/L
Soil composition: sandy loams to extremely rocky with granite base
Wine production: no maceration, spontaneous fermentation using only natural yeast
Ageing: 18 months in oak, the rest in the bottle
Bottle: 0,75 / Magnum possible.
Vinification: 
Late harvest grapes. Every grape variety fermented separately only with natural yeast found in the vineyard. Alcoholic fermentation in stainless steel on 16-17 degrees Celsius. Towards the end of fermentation, the wine is moved into barrique barrels for up to 1 year. Once the fermentation is completed, the wines are blended and naturally stabilised. Finally the wine is bottled for further ageing.
Exotic Wine Travel review on Vivino:
Very impressive off-dry wine that tastes dry. From the Slavonia region in Croatia (continental side) Flavors of petrol, chestnut, leaves, honey, baked apple , rich and you dont feel the high alcohol. Rich mouthfeel and beautiful texture 4.3

Product specifications
Article number

n/a

SKU

n/a

EAN

3859892375126