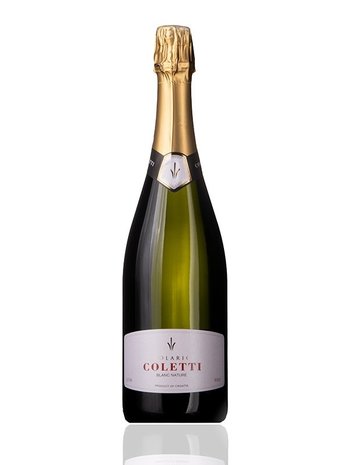 Product description
Product description
Coletti Blanc Nature is a non vintage sparkling blanc de blancs wine, fermented in bottle. Made from 50% old grape varieties from Plešivica hill - Belina, Šipelj and Kraljevina, 30% Rhein Riesling and another 20% Chardonnay.
Fresh and mineral, with pleasant acidity and persistent perlage.
Coletti is the new name of the winemaker Kolarić from Plešivica - Croatian highlands 30 km from Zagreb where best Rieslings, Chardonnays, Pinot noirs and sparkling wines of Croatia come. Coletti specializes in pinot grigio. Kolarić family owns 6ha of vineyards in the favorable valley of Sveta Jana winegrowing region. The family's wine collection is located on an estate in the small village of Hrastje under the Japetić mountain, surrounded by pristine landscapes and fresh air.
Product specifications
Article number

WKOL0004

SKU

WKOL0004

EAN

3859889817615