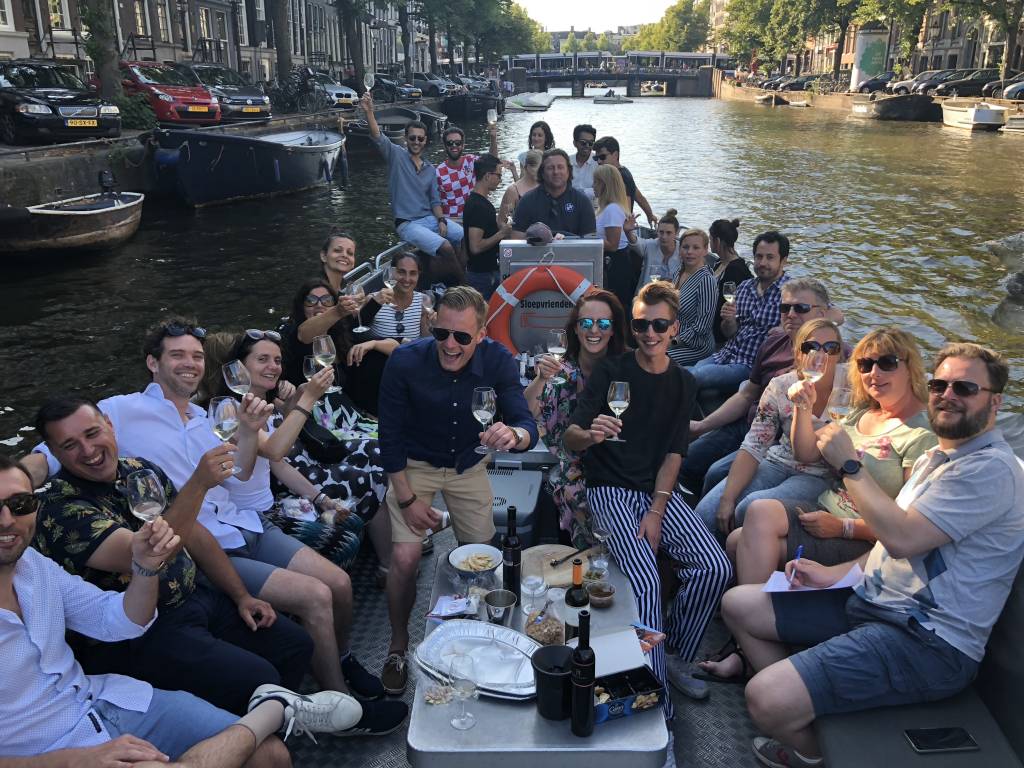 Canal Cruise & Wine Experience
Last Sunday (July 8th) a crowd of 20+ people has gathered for a 2 hours cruise along the Amsterdam's canals while tasting and enjoying Kozlovic wines! Chosen wines fit perfectly the warm, sunny weather we've had over the past two weeks here in the Netherlands. 
The wine line up looked like this:
1. Kozlovic Valle 
20% Sauvignon blanc  & 80% Istrian Malvasia. Refreshing, light wine, perfect for afternoon's drink on a warm day!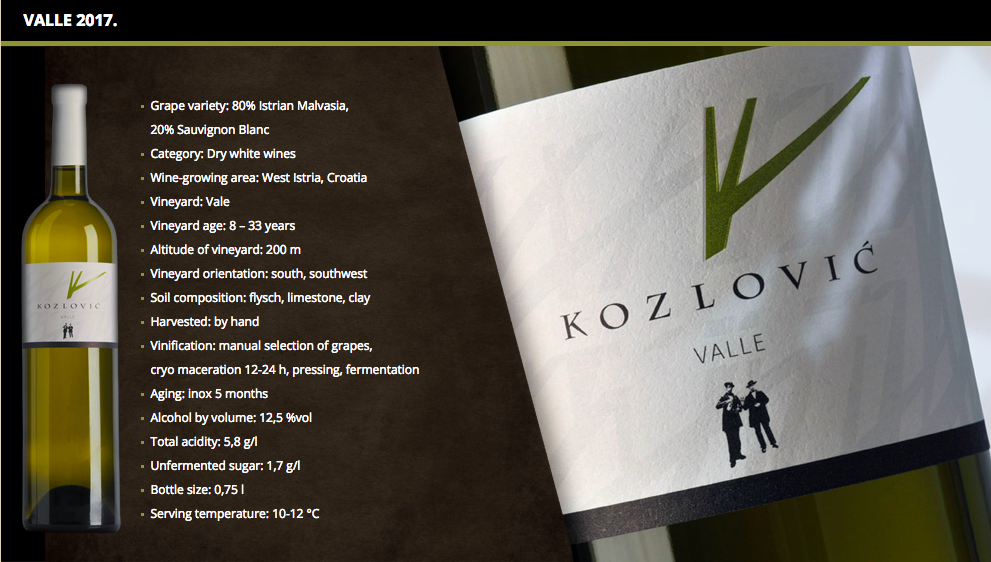 Winemaker's notes:
Valle is a blend of Malvasia Istriana and Sauvignon Blanc with the former giving body and texture and later giving verticality, freshness, and aromatic complexity. Valle 2017 shows pale golden lemon color. Nose is very youthful and rather pronounced showing quintessential grassy and fruity quality. It is reminiscent of elderflower, gooseberry, peaches, grapefruit, tomato leaves and gives a very refreshing impression. On the palate, it is bone dry, with a lighter body and plenty of freshness and life. It is quite intense, with a touch of salinity at the back. In style it is closer to the fresher vintage 2016 than to a bit fuller 2015, maybe it is a bit riper and smoother than 2016. It has a clear-cut finish, which cleanses the palate and makes you ready for another sip or bite. This a classic aperitif wine. It will find a perfect company with all kind of salads, vegetables, risotto with asparagus all kind of cold dishes including seafood. Great also as a wine by the glass in a good restaurant or wine bar. A classic summer wine.
2. Kozlovic Malvazija
100% Istrian Malvasia. Medium body, fresh with lots of fruit aromas. Kozlovic's signature wine!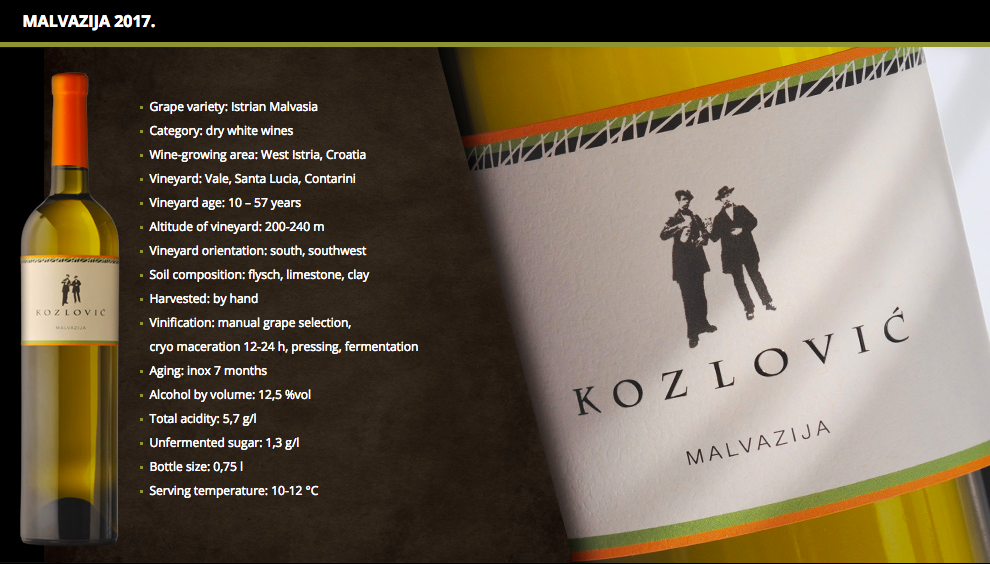 Winemaker's notes:
Malvazija 2017 (Malvasia Istriana 100%) shows a nice medium deep golden color. On the nose, it is open, diverse very pure and of medium intensity. There is a nice play between freshness and opulence. We can encounter lemons and apples combining with apricots, peaches, pineapples... A bit like in 2015 there is some delicate spiciness. And yes, there is sage again. On the palate, it is dry, medium bodied with remarkable and balanced acidity. There is a good intensity of the character which covers the mouth nicely and finishes in a long, slightly salty and spicy aftertaste. Risotto with scampi or shrimps, mushroom risotto, delicate white fish but also more complex textures like salmon. A good companion to scallops, pasta dishes with meat or seafood, chicken in creamy sauces, grilled vegetables, Istrian fuži with lighter sauces and with poultry in general.
3. Kozlovic Violeta 
80% Merlot & 20% Teran. Refreshing fruity rosé, with a grapefruit finish. #roséallday during the summer!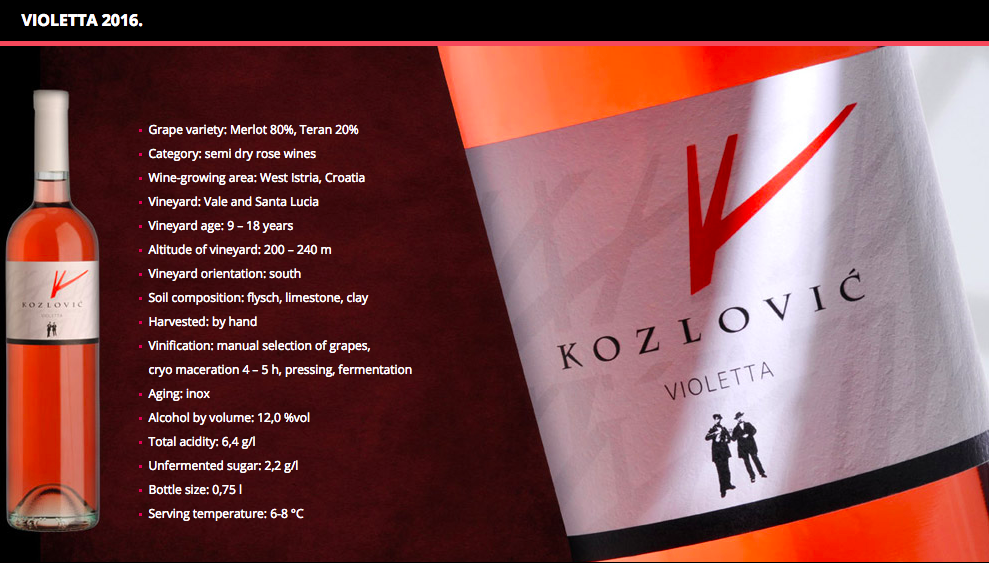 Winemaker's notes: 
This has bright, pale, salmon color. On the nose, it is immediately inviting. Medium intense, floral and fruity, while reminiscent of vibrant red berry fruits, violets, red apples, grapefruit. Dry on the palate, medium bodied with zesty acidity and well-presented character on the palate. Youth, freshness, primary aromas are the name of the game here. This rose is an all-rounder that can be served especially well as an aperitif while will give lots of pleasure all the way through the meal, except maybe for some main dishes with intense character. Great summer wine.
4. Kozlovic Muskat Momjanski
100% Muskat Momjanski. A semi-sweet dessert wine that surprises everyone!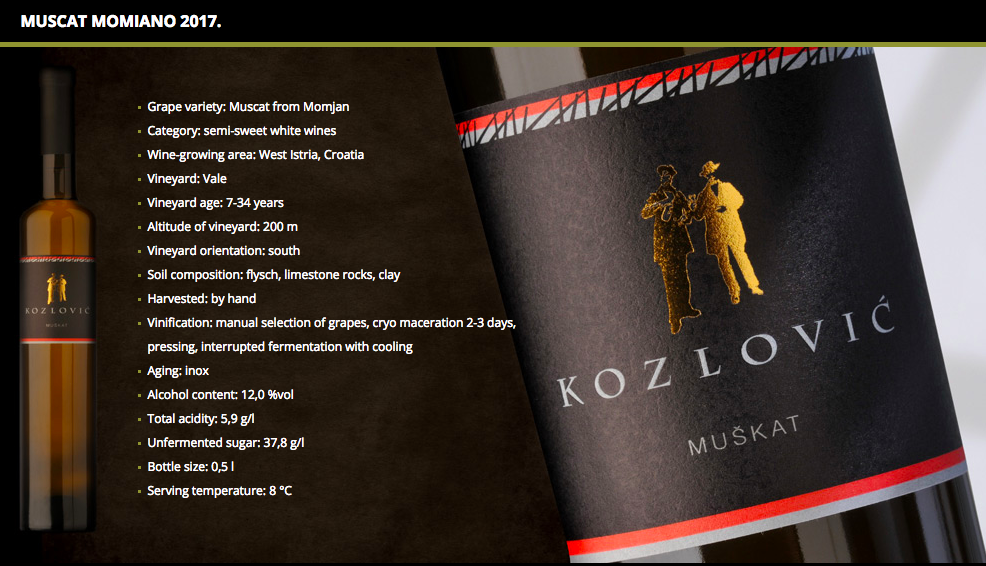 Winemakers notes: 
The color is a pale lemon to gold. It is pronounced, aromatic and amazingly complex for a Muscat variety. Besides the obvious and leading Muscat note, we can find honey, grapefruits, ripe pears, dried apricots, a touch of spices like cloves and cinnamon... On the palate, it is medium sweet with plenty of freshness and balancing acidity. Body is on the lighter side. Having nice aroma intensity, there is much going on the palate as well. The finish is long, slightly spicy, refreshing and asks for another sip. Best paired with fruit salads and ice cream, or just on its own at the end of a meal.
You can get these wines in our webshop:
Love what you see and want to join us next time? Check our Events page to see where we'll be next!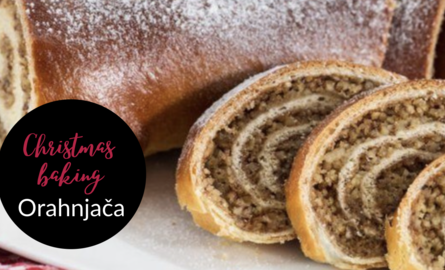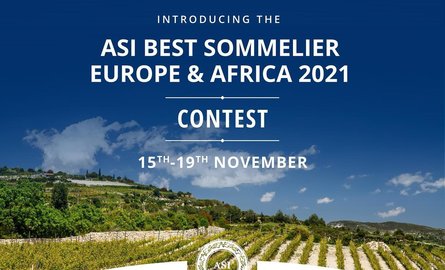 2 min read
Siniša Lasan competing this week at the ASI Best Sommelier Europe & Africa 2021
From the 15th to 19th of November 2021 in Limassol, Cyprus, 36 sommeliers are competing for the title of the ASI Best Sommelier of Europe and Africa 2021. Among these sommeliers, there's also one we are specifically proud off - 1 of the 3 ASI sommeliers of Croatia, Siniša Lasan, our host of online wine tastings during the lockdowns.