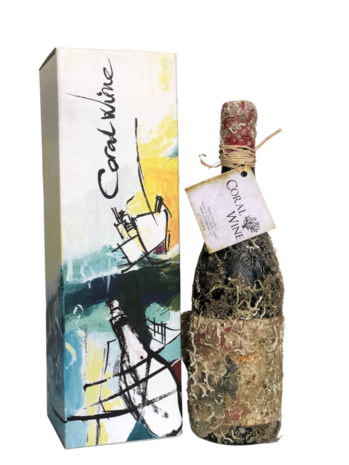 Product description
Product description
After maturing in the bottle , the wine has been immersed for another 12 months in the sea on a depth of ±20 meters in the Adriatic sea. Submerging wines in the sea to mature has proven to influence positively the wines taste profile while also making each bottle of wine a piece of artwork.
Each bottle is unique and a creation of the sea. The product picture is an example and the the sent bottle can differ in the appearance to the product foto.
Dalmatian Dog Babić is a fruity, medium-bodied wine with lively freshness and firm structure.
It has ruby color and aromas of ripe red cherry and Dalmatian herbs. Aged in stainless steal, Dalmatian dog babić wine is terroir-driven, vibrant and full of life. Made by enologist Juraj Sladić who's famous for making pure, terroir driven and well-balanced wines.  
HARVEST DESCRIPTION
 Manual harvesting was done in mid-September. The wine is macerated with fermentation for 8 days. Spontaneous malolactic fermentation (conversion of malic acid into lactic acid) is enabled. It was aged in stainless steel barrels, later transferred to barrique. The wines then spent 300 days underwater in the Adriatic Sea at a depth of approximately 20 meters.
ABOUT THE GRAPE: Babić is a Dalmatian variety of red grapes, which is grown in the Šibenik vineyard area. Testament's vineyards were planted ten years ago and cover 50ha in the Jadrtovac area. Due to its location, it is climatically exposed to light local winds that give the wine its Mediterranean aroma. On the other hand, the vine grows in harsh conditions, in limestone karst with less than 20% soil. And such conditions are especially favorable for Babić, and the grapes are of top quality, and therefore the wine.