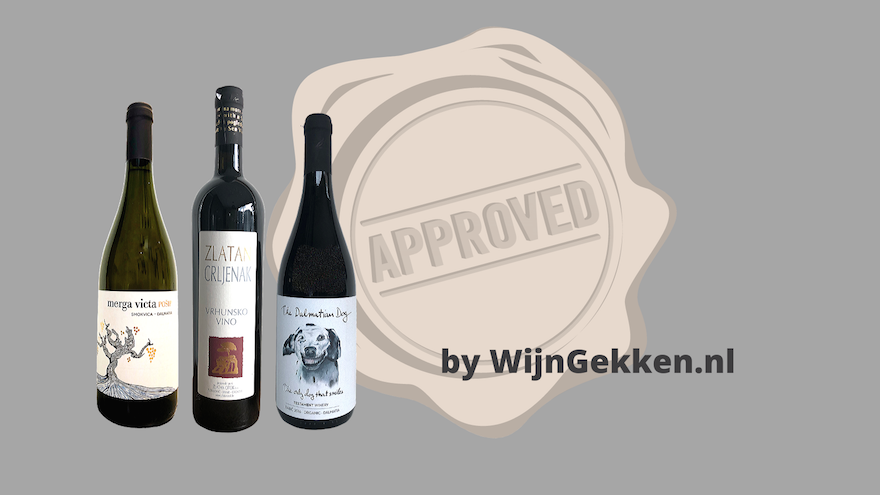 Wijngekken.nl reviewed 3 Croatian wines
Past month I've asked the Wijngekken.nl team to give it a try reviewing 3 Croatian wines. For the test run I wanted them to try different indigenous grape varieties and get their feedback on it. So, I've sent them The Dalmatian Dog, Zlatan Otok Crljenak 2013 & Pošip Merga Victa, lately, the 3 most sold wines in the webshop. Curious what they said about it? Continue reading.. but before, let's just review the score points used by the Wijngekken.
For the scoring system to judge the wine, Wijngekken.nl uses the following point scale: 
Colour: max. 3 points
Nose: max. 5 points
Taste: max. 9 points
Conclusion: max. 3 points

Final conclusion point scale and it's meaning:
10 to 12 points: a reasonable wine with too many shortcomings, but just and/or just not a sufficient one.
12 to 14 points: a generous enough, not a class wine, but just below.
14 to 16 points: a class wine with complexity, strength and length.
16 to 18 points: a super wine. Everything is in the wine and almost no mistake to discover.
18 to 20 points: a classic. Unfortunately very rare. The best of the best. 
And here's what Martin from the Wijngekken.nl said (text has been translated from Dutch to English by DeepL Translator).
Pošip Merga Victa 2018(14.3 points)
Black Island Winery, Korčula
Colour: the colour of this Merga Victa is light straw yellow. There is also a very small bubble in the wine (young). In the rim the colour is medium deep and straw yellow / 2.6
Nose: the nose is nicely pure. Pure tropical fruit with a creamy edge and some spiciness. The nose is nicely balanced, well full and deep / 3.6
Taste: at the first sip you think 'what a fresh juicy wine'. Nice pure tropical fruit with again a small creamy edge (no wood, but it will be the grape) and some green spiciness and a nice salinity. The taste is medium deep and the aftertaste is quite long / 6.2
My final verdict on this Pošip from Smokvica:
This Merga Victa has a nice purity, a nice balance and a beautiful freshness. It is a medium full bodied and medium complex white wine that will certainly go well as an aperitif or with a delicious fish / 1.9
So I give this Pošip from Smokvica a total of 14.3 points
Crljenak 2013 (16.5 points)
Zlatan Otok
..a red wine from Zinfandel from Croatia from the wine year 2013
Colour: the colour is good dark on the tongue and red purple. The slightly ripened colour is sprouting in the rim to pink with another purple rim / 2.7
Nose: this red Croatian Zinfandel is pure in the fruit. It is framed by a sultry, powerful oak scent with earthy notes. Thick and ripe black fruit has this red wine from Zlatan winery with blackcurrant, plum and notes of leather, coffee and some eucalyptus. The nose is quite complex, full and deep and comes well loose in the glass / 4.1
Taste: the taste of Zlatan Crljenak is very soft, warm and ripe (with 14.5% alcohol that you don't even notice). The ripeness consists of black fruits such as blackcurrant, plum, blackberry. I also find some peppermint and green herbs. There's also a good dose of oak in the taste and the beautifully finished tannins make this wine very soft. All in all, this combination makes this red Zinfandel very accessible and soft with a full and mouth filling body. The aftertaste is nicely long, slightly dry (due to the oak) and complex / 7.4
My final verdict on this Crljenak by Zlatan Otok Winery from Croatia:
If you taste this kind of wine it is still a mystery to me why many wine lovers stick to the traditional wine countries like France, Germany and Italy. Many other wine countries (including around the Mediterranean) also have many beautiful wines to offer. But to make a good choice you do need an independent website and good wine importers to get the chestnuts out of the fire for you. Also this red Zinfandel from Zlatan Otok Winery is such a wine. A beautiful round wine, soft, fresh (slightly drying in the aftertaste) and with a nice complexity, body and length that you can also find in traditional countries. But those wines are twice as expensive. Well, you have to make your own choices / 2.3
So I give this Crljenak aka Zinfandel from Croatia and total of 16.5 points, a very nice score.
The Dalmatian Dog 2016 (16.4 points / Silver WineGekken Medal)
Testament winery
...made from the ancient Croatian grape variety Babić...
Colour: the colour of this Dalmatian Dog is deep dark and purple-red on the tongue, somewhat gloomy, but very full and opaque. In the rim the colour of this red Croatian wine is well full-bodied and old-pink with purple / 2.8
Nose: Wow, what a nose. How should I describe it, but I'm gonna try. The main ingredient is fruity mint, but not only that, it's much more complex. Mint with a fruity raspberry base, freshly cut grass, red fruits. In short: very complex and an exciting glass. The nose is deep and medium full and comes very nicely loose
/ 4.0
Taste: the taste is even more exciting. Here too, mint with raspberry and the freshly mown grass, but also plum, basil, sweet strawberry and small red berries. The taste is fruity with few tannins, so very soft. The body is mouth filling, fresh and medium full. The aftertaste largely exchanges the fruit for bitter chocolate with some spiciness / 7.4
My final verdict on this Dalmatian Dog from Juraj Sladic from Croatia:
This winemaker made a very nice wine here. Unfortunately I have too little experience with the Babić grape variety, so a comparison with other wines is not in it. However, this wine is bursting with fruitiness, complexity and fresh tones, so for me a combination that suits a quality wine that is also very tasty / 2.2
So I give this Dalmatian Dog from Juraj Sladic from Croatia a total of 16.4 points and a Silver Wine Medal
Quite impressive results for all wines. Big congratulations to all winemakers! 
And for those of you, interested to try these wines yourself, even during these difficult times impacted by Corona virus,
ThetasteofCroatia.com
remains open and delivers personally or via the post. It gets even better: The Dalmatian dog & Pošip are on special 5+1 offer right now, even when you mix. So check it out in the webshop!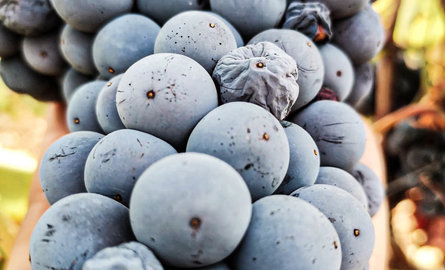 2 min read
Plavac Mali - the king amongst Croatian red wine grape varieties
Op 21 september vieren we ''The International Plavac Mali day'' en daarom introduceren we deze ''little blue'' aan jullie! De koning onder de Kroatische druivensoorten voor rode wijn. Laten we de meest aangeplante rode wijndruivensoort in Kroatië eens nader bekijken.