New Vintage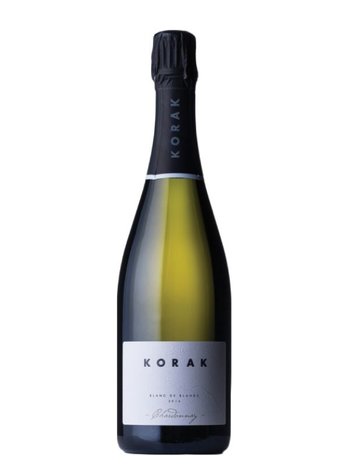 Product description
Product description
KORAK Brut Nature pas dosé sparkling wine is pure and precise. It is an absolute driest sparkling wine, with no "liqueur d'expédition" or dosage liquor added. Brut nature is made of 100% Chardonnay, bottle-aged for 48 months or 4 years on its own lees. It contains only the wine's natural residual sugar at less than 2g per bottle. Moreover, the use of an absolute minimum or no sulphur gives the wine the freedom to express itself.
Korak started producing sparkling wines in 2013. applying the traditional champenoise method. Strategy in producing sparkling wines is to make them mature on their own to their best version, avoiding any artificial additives in order to speed up the process. This makes Korak's sparkling wines particularly dry, mineral and fresh. 
Crystal clear, light yellow with a gold hue. On the nose complex aromas. Notes of bread crust and forest. Earthy and nutty components. On the palate dry, light, fresh and mineral notes with long finish, along with creamy flavors. Fine & tiny persistent bubbles.
Bottle aged on its own lees for a minimum of 4 years before degorgement
Serve it chilled in a wider champagne flute. The ideal temperature for serving is between 6 °C to 8 °C
Base wine fermentation takes place in large wooden barrels (3000l), while secondary fermentation takes place in the bottle on natural lees.
Product specifications
Article number

TC900316

SKU

TC900316

EAN

3859892030285