Cidrani Synbio 250ml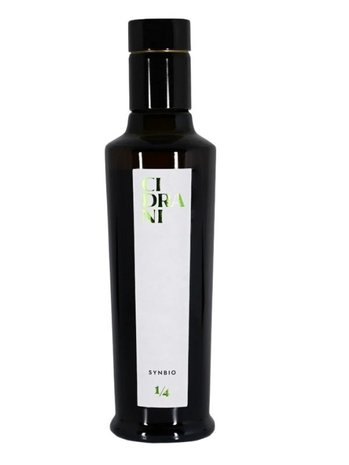 Product description
Did you know that prebiotics are extremely important for the health of your digestion - fibers that feed good bacteria and help them multiply and activate in the digestive system?
Inspired by the benefits of prebiotic fiber, a gentle fermented plant based drink for a complete approach to the health of your digestion is here - Cidrani Synbio.
With its mild aroma but strong action, Synbio will prepare your digestion to enjoy the meal and absorb nutrients, and after a meal use it as the perfect digestive that can calm the stomach and shorten the passage of food through the digestive tract.
HOW TO USE?
Dilute 15 ml of Synbia Cidrani in 2 dcl of water and drink before meals to prepare your microbiome for digestion. Dilute 15 ml of Synbia Cidrani in 2 dcl of water and drink after a meal as a perfect digestive that can help calm the stomach and speed up the digestive process.
In a world of empty calories and low-quality food, insure yourself with Cidrani Synbio, which is rich in prebiotics - fiber suitable for diabetics because they do not stimulate insulin secretion and lower cholesterol and fats.
Synbio is adapted to a vegan, paleo and keto diet.
It improves the health of digestion by multiplying and activating good bacteria in the digestive system.
A recipe traditionally used to calm the stomach. It can help in the absorption of calcium and magnesium.
Directions for use: Shake before use. Dilute 2 tablespoons in a glass of water or use as a gourmet side dish.
Ingredients: Apple cider vinegar *, agave inulin 40% * (* from organic production). It contains up to 5% acetic acid.
Places on the market: Cidrani j.d.o.o., Ivana Meštrovića 35, 10360 Sesvete, Croatia
Country of origin: EU
Storage conditions: Store in a dry and dark place.
AVERAGE NUTRITIONAL VALUES PER 100 G
Energy: 436.8 kJ / 94.6 kcal
Fat: 0 g
of which saturated fatty acids: 0 g
Carbohydrates 2.4 g
of which sugars 2.4 g
Protein 0.02 g
Salt 0 g
Fiber 36 g
Net quantity: 250 ml
Eco control body: HR-EKO-09
Product specifications
Article number

n/a

SKU

n/a

EAN

3856026300511