Cidrani Four Seasons Quattro


Last bottles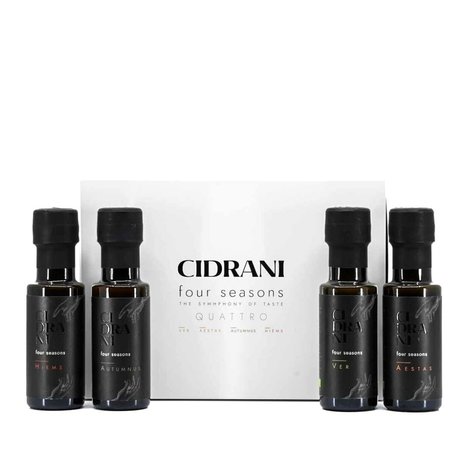 Product description
Cidrani is the most potent apple cider vinegar on the market, with 8000 mg of polyphenols (read: youth-preserving antioxidants) per liter and a natural immune booster, rich in ˝wild mother˝ probiotic culture.
In this version, Cidrani Original is infused with organic raw honey and fermented herbs, a rich source of antioxidants with strong antibacterial and antifungal properties, which gives the vinegar a pleasant sweet taste.
Benefits of using apple cider vinegar with wild mother culture:
Improves digestion
Helps weight loss
Stabilizes blood sugar levels
Increases the radiance of the skin
Increases energy levels
Helps strengthen immunity
In this quattro gift pack you will find four different bottles of apple cider vinegar: 
VER- the oriental power of ginger, turmeric, fennel and coriander goes well with cold bites like cheese, prosciutto or hummus.
AESTAS- the flavor of Mediterranean summer that combines rosemary, blueberries and lavender, enriches fish, sautéed vegetables and pasta
AUTUMNUS - an explosion of smoked peppers, chili peppers, cumin, allspice, cinnamon and cloves. A new dimension of favorite flavors that will enrich any steak and other meat dishes but also a top combo for soy, tempeh or seitan.
HIEMS - rich, warm and full flavor that brings us closer to Christmas and winter magic. Cinnamon, cardamom, cloves, allspice, star anise combo that will be delicious addition for winter dishes and cookies.
One drop is enough to breathe new life into any dish.
Origin: 
This ancient tonic was inspired by the recipes of great-grandmothers who used it as a natural remedy for better quality sleep.
About Cidrani
Cidrani is a startup from Croatia that is reinventing the world of artisan fermentation by bringing modern recipes based on ancient wisdom to the table. Cidrani follows a simple philosophy - eat functional, live longer, be happier. All their products are certified organic.
Product specifications
Article number

n/a

SKU

n/a

EAN

3856026300429