Thetasteofcroatia Big Wine Tasting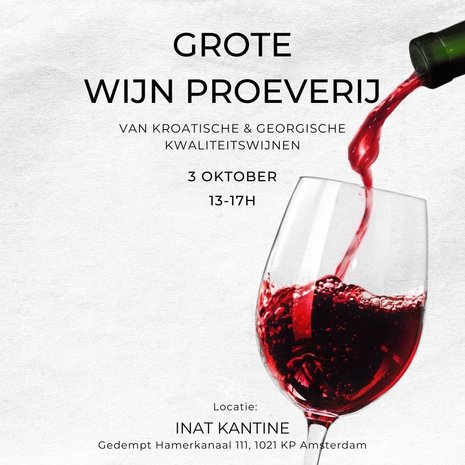 Product description
Sunday 3 October: INAT Kantine in Amsterdam from 13:00 - 17:00
Our last planned tasting was 1,5 years ago and was cancelled due to the COVID-19 pandemic. And now we can finally do it again!
And we will do it right away, with not only our fantastic Croatian wines, but also the fantastic Georgian wines of Ghvino.nl. There are over 50 different wines to taste, so plenty of choice!
Tickets cost € 7,50 p/p, which you can easily earn back with 10% discount when buying 6 bottles or more.
NB: Due to Corona measures please choose one of the visiting time slots. 
We will only be allowed to grant access to people will Corona check app that can show either full vaccination or a valid negative test. 
Address: Gedempt Hamerkanaal 111, 1021 KP Amsterdam